Please click the link to see our latest Forest Garden Blog
March 2019
Another busy week in the life of Moulsecoomb Primary gave a snapshot of the wide and varied curriculum our pupils receive, with a whole range of organisations helping to bring the children's learning to life.
As part of an Enterprise Day, Albion in the Community together with American Express staff helped pupils design and market a soap product with role playing and budgets.
Moulsecoomb Primary is the only school in Brighton where pupils are given scholarships to Christ's Hospital Independent School and one of our former pupils is running a gardening project with students from the College and pupils from our school. Moulsecoomb Forest Garden are helping Christ Hospital as well as running their usual lunch clubs and working 1-1 with some of our head gardener pupils. They also took half of Year 4 to plant beech trees in the pouring rain in Hodshrove Woods.
Year 2 visited the Friday Friends seniors club at the Bevy to chat to older residents, sing some songs and share the cookies they made, while Men in Sheds, a charity for older, isolated men, built a small picket fence to go around our nursery ponds.
Every week we welcome The Reading Dogs. Unfortunately, the dogs can't read but our children love reading to them! Our library is also being transformed into a magical fairy-tale forest to complement our real Fairy-tale Forest in the grounds.
On World Book Day the school transformed into Hogwarts! There were real owls, potions classes, fortune-telling and magical stories being created. The children even practised their Quidditch skills.
Dr. Bike's team were weaving their cycling magic including taking pupils to Stanmer Park combining healthy living with outdoor learning.
Little Green Pig ran their afterschool storytelling club in the space hub while Brighton Table Tennis used ping-pong to teach maths.
Thanks to government funding our breakfast club is now open from 7.45am with free cereals and bagels while we have after school club activities every school day with some pupils going to IntoUniversity for extra help with their homework. We also run a pre-school nursery every Thursday and this week they enjoyed Read and Rhyme.
Thanks to funding from East Brighton Trust we are able to continue to take children on trips from Seven Sisters to Washbrook Farm to watching the Lion King in London, while the Youth Hostel Association are giving free residential places to Year 6 pupils as well as promising family holidays in the future.
Being a community school means we love life-long learning and parents come along to brush up on their English, maths and computer skills. The courses are run by Varndean College and The Friends Centre. Family Learning, a council organisation, also work with families and children to boost confidence and encourage adults and children to engage in fun learning together. Amaze hold sessions to provide advice and practical support for parents of children with special needs and disabilities.
Despite current funding arrangements providing significant challenges, all at Moulsecoomb Primary are working hard to give all pupils the broad and exciting education they deserve.
Guest blog
January 2018
Parents Action Group for Education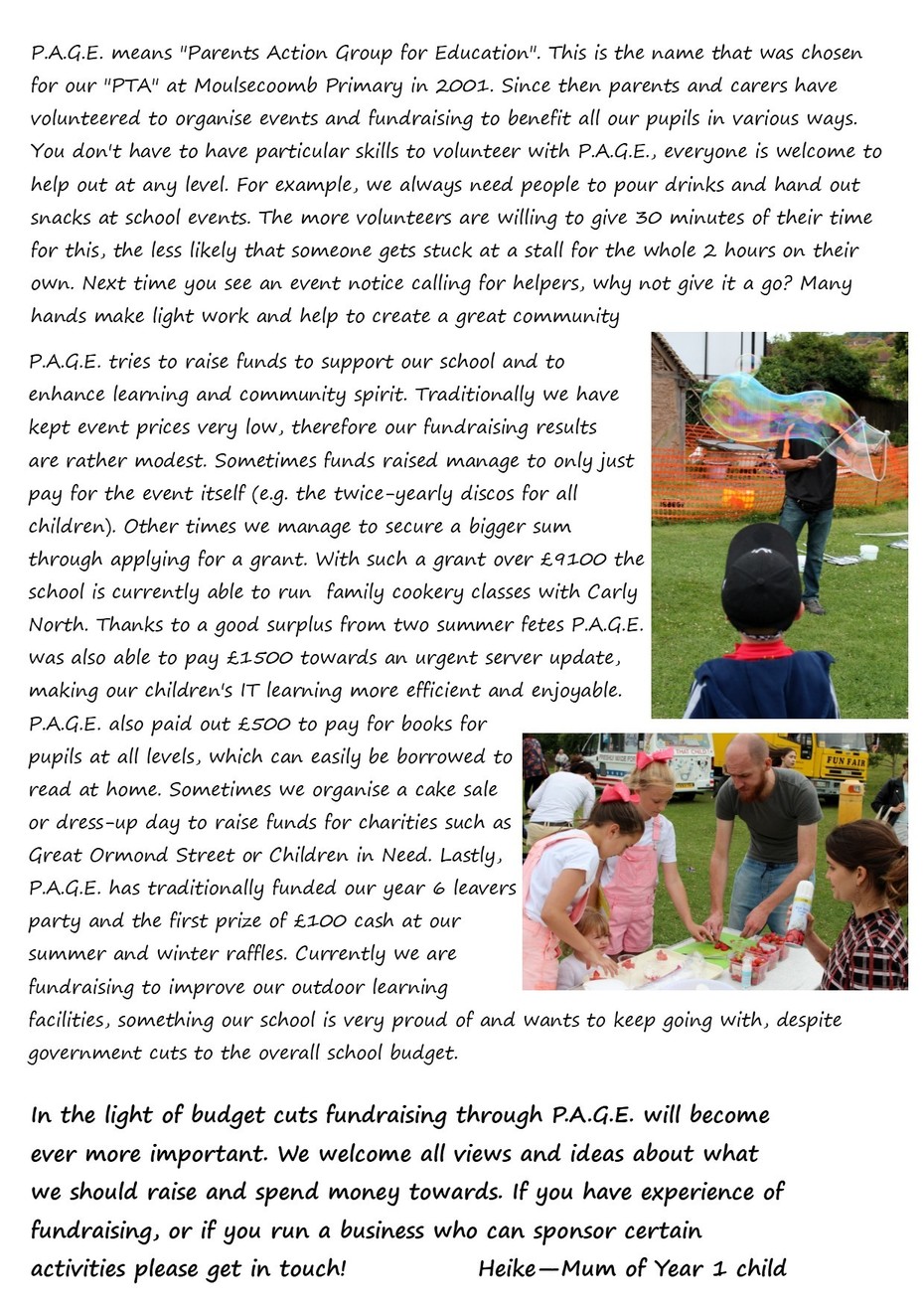 June 2017
Warren is in the news again! Here he explains how the Mouslecoomb Forest Garden and Wildlife Project came about, and how it started its valuable work with us and the community here at Moulsecoomb. You can see the original article here.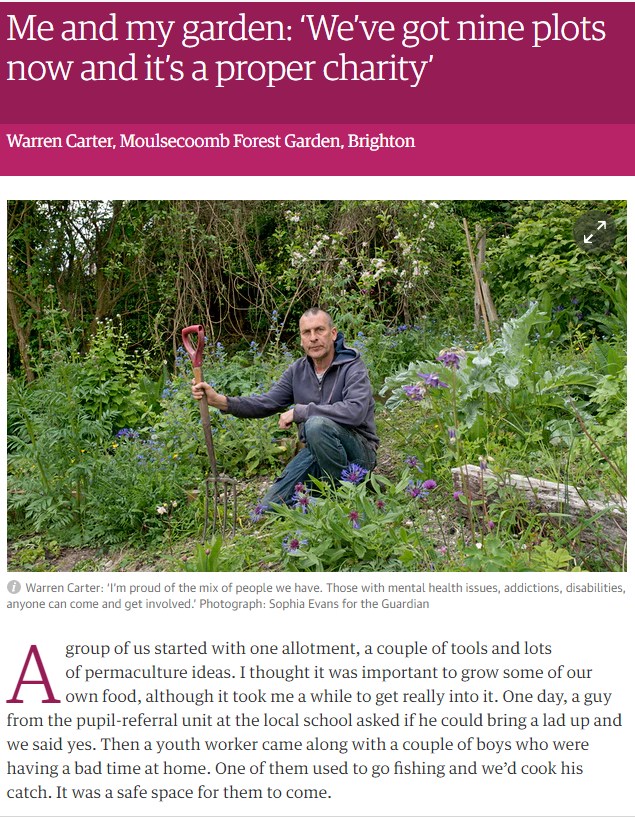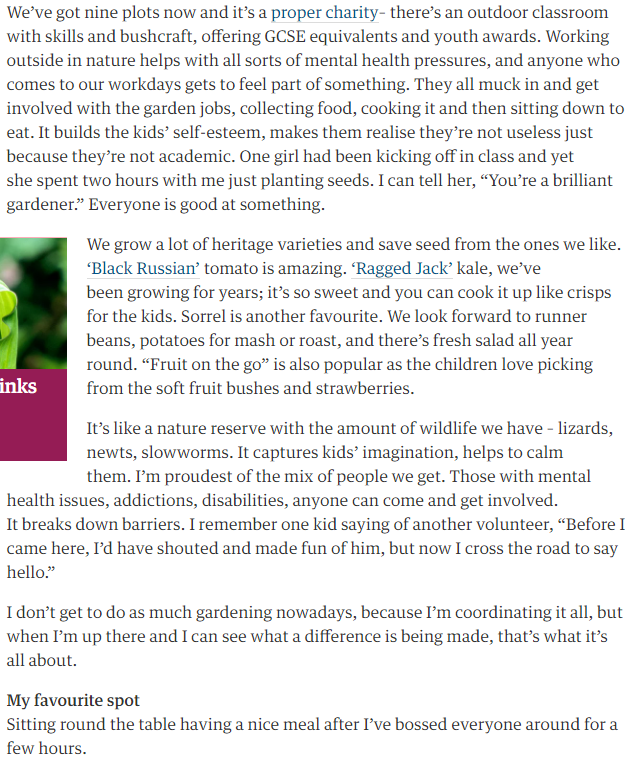 March 2017
Warren Carter is the founder of Moulsecoomb Forest Garden and Wildlife Project and is an active member of the Moulsecoomb community, with various roles including parent governor at the school. Here he writes about the proposed cuts to school budgets. For more information visit Warren's website at http://seedybusiness.org/ or see the original blog at http://moulsecoombforestgarden.blogspot.co.uk/2017/03/extra-curriculum-activity.html. For more information about the cuts to schools have a look at Caroline Lucas' blog here https://www.carolinelucas.com/latest/schools-funding-crisis.