Year 2 Home Learning
Whilst your children are not at school, it would be beneficial for them to continue their learning at home. Practising maths (calculations, times tables etc), writing, spellings and reading daily will keep their learning fresh in their minds and help keep them occupied. Below are suggested activities or websites the children use at school and can continue to use at home.
To contact a member of the Year 2 teaching staff for support with home learning, please email:
year-2@moulsecoomb.brighton-hove.sch.uk
***Power Of Reading (and writing)*** - CLPE's 'Take 5' for year 1 and 2.
Download and have a try at these:
Reading:
Reading every day is the best thing that your child can do at home in regards to their learning J
Spellings:
In the pack, there is the Y2 common exception word list. These are words the children should be able to spell by the end of Year 2. They can practise these spellings in a variety of ways:
Rainbow words – Choose a coloured pencil or pen and write the spelling word. Then pick another colour and write over the top. Repeat until you have used seven colours.
Bubble/Graffiti writing – Practise the spelling words by drawing the words in as many different ways as you can.
Play Hangman.
Put the words into silly sentences.
Times Tables:
2, 3, 5 and 10 - there is a game to play in this pack.
Websites and tools we use in school:
The below websites can be monitored and supported by teachers and meet curriculum objectives. Some of these allow teachers to set tasks. Internet access is needed.
https://play.numbots.com/#/intro - (teacher can monitor and set tasks)
How to login: Visit website, enter school postcode (BN2 4PA). Individual logins in pack.
https://www.purplemash.com/login/ - (computing, Maths, spelling, reading – teacher can monitor and set tasks). How to login: Visit website, find school, individual logins in pack).
Other ideas: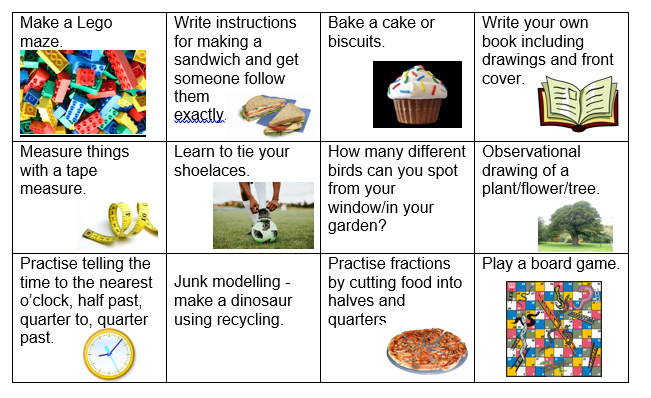 We hope this is helpful – all of the resources mentioned are useful and will support your child's learning if used regularly.

Mrs Pearce, Ms Boyle & Miss Fay
Other useful links/website:
https://www.topmarks.co.uk/maths-games/hit-the-button - maths games
https://www.phonicsplay.co.uk - phonics games
https://uk.ixl.com/math/ - curriculum based maths quizzes
https://myminimaths.co.uk/ - maths resources
https://www.mathantics.com/ - explanative maths video tutorials
https://www.theschoolrun.com/ - guides for parents to help with learning
https://www.bbc.co.uk/bitesize/primary - supporting resources for English/Maths/Foundation
http://www.pobble365.com/ - Provides a different picture each day as a writing stimulus
https://www.onceuponapicture.co.uk/ - Provides many writing stimuli
https://www.duolingo.com/ - Sign up for free and learn Spanish